Waterproof Flooring in Lafayette, LA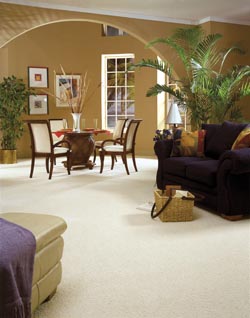 No matter how careful you are with your flooring, life has a way of happening. Whether a guest drops a drink during a party, your pet has an accident, or you knock over a vase while cleaning, you deserve floors that can withstand anything. At our store, we pride ourselves in offering our customers a variety of options for waterproof flooring in Lafayette, LA. Visit us to choose from one of these trusted flooring brands:
H2O
Coretec
Eagle Creek
Shaw
Armstrong
Metroflor
Get the Look of Hardwood & Tile without the Fear of Water
Authentic hardwood is beautiful, but it isn't ideal for every room of your home. Basements, bathrooms, and kitchens often have too much moisture to safely install wood flooring. However, our waterproof vinyl flooring is able to mimic the look of wood while providing you with peace of mind in a highly humid or wet environment.
Waterproof luxury vinyl flooring is also able to mimic the look of most hard-flooring options. Whether you love the look of natural stone or ceramic tile, we have the vinyl flooring to suit your needs, and all in waterproof options. Don't let your rooms dictate the style you like. If you want to have the look of wood in your bathroom, now you can with waterproof floors.
Spills & Pets Are No Match for Waterproof Carpet
Hard flooring isn't the only waterproof game in town. If you love the soft, luxurious feel of carpet, but you fear the inevitable spilled glass of wine or accident from a pet, we are here to give you the peace of mind you deserve. Our waterproof carpet is able to repel stains and keep moisture from seeping into the floor below. This means that you are finally able to have the best of both worlds.
Trust Our Experts to Install Your Waterproof Flooring
The invention of waterproof carpet and hard flooring options changed the game. Now you are no longer limited to what styles you put in your rooms. However, it is vital that you have your floors installed by one of our industry experts, because the quality of your flooring's waterproofing is heavily dependent on the installation as well. If gaps are left behind, water may still find its way through. Our installers make sure to do the job right the first time, so you have nothing to fear.
---
For more information about our 12-18 month financing

Contact us to protect your home from water damage. We serve Lafayette, LA, and the surrounding areas.