Tile Flooring in Lafayette, LA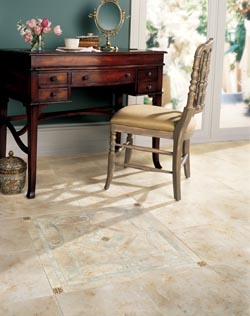 Few things make a house more marketable than a newly renovated kitchen or bathroom. If you are looking for a great way to enhance your property's resale value, look no further than our flooring company to give your home the makeover it deserves. As an industry leader, our company is the one that locals trust when looking for tile flooring in Lafayette, LA. Choose from these great brands to get the look you desire:
Dal Tile
Interceramic
Marazzi
Mohawk
Shaw
Vitromex
Get Flooring That Is Able to Stand the Test of Time
When looking at tile flooring prices, you may wonder what a good price point is for your project; however, the longevity of this material makes it a very smart investment. Ceramic can easily last for decades of use and is ideal for high-traffic areas. Additionally, the water-resistant nature of tile makes it the perfect choice for any room that has high levels of moisture or humidity.
Think of tile floors as an investment in your home that pays you back in increased home value and decades of use. Whether you plan to sell your home soon or plan to stay in it for many years to come, tile is a perfect choice.
Tile Flooring Isn't Limited to Just Your Bathroom & Kitchen
In the past, ceramic tile flooring was mostly used for bathrooms and kitchens, but that isn't the case any longer. Thanks to modern manufacturing techniques, tile can mimic the look of other flooring types, such as wood. No matter what room you want to put flooring in, tile can do the job. Now you can have the great water and scratch-resistant properties of this flooring wherever you need them.
Tile Flooring Installation Done Right the First Time
When installing tile flooring, it is important to do it right. With proper tile floor installation, your floors will have the durability to stand up to the daily wear and tear they receive. However, if they are not installed correctly, they could easily crack or shatter under pressure. Our experts make sure the job is done right the first time, so you have flooring that stands the test of time. Depend on us for all of your installation needs. No job is too big or small for our experienced team of flooring experts.
---
For more information about our 12-18 month financing

Contact us to give your kitchen or bathroom a facelift. We serve Lafayette, LA, and the surrounding areas.