Upgrade Your Home with Luxury Vinyl Tile in Lafayette, LA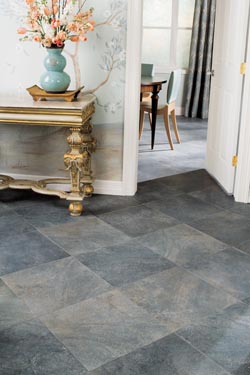 Give your home an excellent new look by upgrading your floors with luxury vinyl tile in Lafayette, LA. With unmatched water resistance and durability, luxury vinyl works great in any room. It is soft to walk on, providing a comfortable surface in living rooms and offices while holding up to the high moisture levels commonly found in bathrooms and basements.
Combine these benefits with LVTs beautiful aesthetic, and you have a flooring solution that is perfect for your next remodel or upgrade. Visit The Floor Trader of Lafayette to explore our vast collection of vinyl tiles and let our team help you find the right surface for your home.
Limitless Designs and Aesthetics
When choosing a luxury vinyl tile floor, there are countless designs, colors, and patterns to choose from. Crafted to look like natural stones and ceramics, vinyl tiles give the elegant appearance of these materials, while providing the excellent durability you expect of vinyl. This way you can have the aesthetics of beautiful stone flooring in any space you want.
Furthermore, luxury vinyl is also available with the appearance of wood. This way you can add the timeless and warm look of wood to your bathroom or kitchen without having to worry about spills or messes damaging the floor.
No matter the design or aesthetic you are trying to achieve, choosing luxury vinyl tiles is the right solution. Additionally, if you are unsure of what design style will work best for your space, our team is here to help. Our experienced staff will help you choose the right surface to fit into the décor of your home, ensuring that your new floor looks fantastic.
Professional Flooring Installation
Ensure the correct installation of your beautiful new floor by hiring our team to perform the work. Our skilled installers are experienced working with all of the surfaces we offer and will make sure that your new flooring looks great in your home.
By having our team handle your luxury vinyl tile floor installation, you get the peace of mind that everything is completed correctly and that your new floor will last for years to come. This way you know that you are getting the complete moisture protection that vinyl floors offer, while also allowing you to easily maintain your floor without worry of it lifting or shifting. To learn more about our installation services, reach out to our store. Our team is always happy to answer your questions and help you ensure your LVT floor is installed correctly.
---
Contact us when you are upgrading your home's floor, and you want a beautiful and luxurious solution for your new surfaces. We proudly serve Lafayette, LA, and the surrounding areas.