Impressive Luxury Vinyl Planks in Lafayette, LA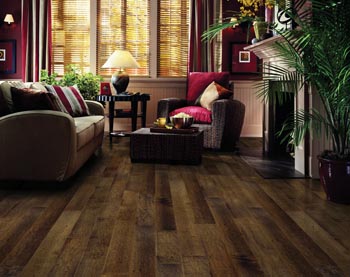 Looking to make a strong impression when you update the flooring in your home? Are you looking for a surface option that looks good and functions even better? Then the answer is clear — you are in need of luxury vinyl planks in Lafayette, LA. This amazing flooring option delivers all of the resilience you have come to expect from vinyl, but with a look that can match the best natural stone or hardwood floor has to offer.
Luxury vinyl planks from the Floor Trader of Lafayette are quickly becoming one of the most popular options for homeowners throughout the area. The amount of moisture in our state means that getting a floor that won't warp over time can be a real challenge. LVP floors are different. They are manufactured to resist wear, tear, and water with ease. This allows you to get the perfect floor for any room in your home, including kitchens and bathrooms, without sacrificing style or dependability. LVP floors and softer under foot and can be installed around existing kitchen cabinets easily as well.
Want to get a look at our luxury vinyl plank for yourself? Then come on down to our flooring showroom. Our friendly and reliable staff members gladly answer any questions you have about LVP or any of the other types of flooring we have in stock.
Looks Just Like Stone or Hardwood
Vinyl has a reputation of not looking nearly as good as it functions. For many years, this was mostly true. But things have changed. Today's luxury vinyl planks not only look great, but they are also capable of perfectly mimicking expensive natural stone or hardwood surfaces. This breaks you free of the design shackles that some types of flooring put on you, as vinyl can give you the look and the performance you are after.
Luxury Vinyl Plank Floor Installation Services
At the end of the day, your new floor is only as good as its installation. An improperly installed floor from an amateur could reduce the lifespan of your surface, make it harder to maintain, or drive up your overall costs in the future. The key to bringing that factory showroom-level floor to your home is to work with a luxury vinyl plank floor installation professional.
The team at our store has a deep understanding of all the different surfaces we offer. This allows us to provide efficient and effective installation services for any type of floor you choose. Enjoy the peace of mind of knowing that your floor was installed the right way the very first time by working with us.
---
Contact us to find out more about our luxury vinyl planks. We proudly serve customers in Lafayette, Louisiana, and the surrounding areas.